6 – HOW DO YOU KNOW IF AN IMAGE HAS BEEN FAKED?
KEY CONCEPTS

Just as for verifying information, when it comes to spotting a doctored image, you need to ask yourself the right questions.
1. Look at the image closely: Sometimes, just giving an image a closer look will reveal that it has been doctored or faked. It might show specific elements that provide important information such as the context, date, or location.
2. Find out the nature of the site where you found the image. If it is a social media site, find out the nature of the account that posted or shared the image.
3. Find out the who created or shared the image. Is it a journalist? An expert on the topic? Ask yourself about this person's intent: are they looking to inform or manipulate?
4. Do a reverse image search (using Google Images) to trace it back to its source. Where was it originally published? Very often on the internet, images are shared, posted, and sometimes also twisted, taken out of context, or given 'spin', so it is important to find out where the image has come from. Then, check the image's publication date. These days, news quickly becomes obsolete or debunked/verified.
CASE IN POINT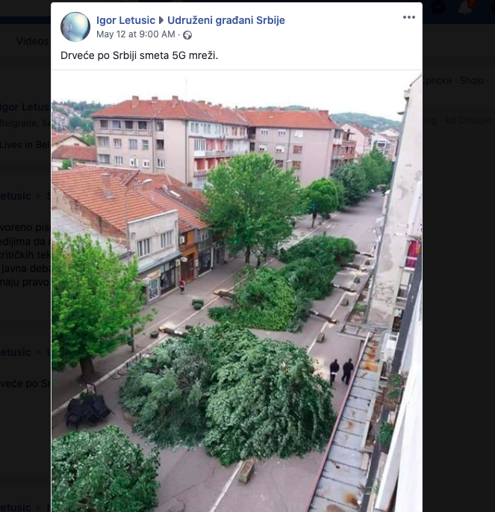 This photo, taken in the Serbian town of Aleksinac and posted to the Facebook group Udruženi građani Srbije, would have you believe that 'trees have been cut down because of 5G'. The same photo also appeared in other groups in Serbia, such as 'STOP 5G mreži u Srbiji".
This 'news item' is, however, a lie. According to the website Raskrikavanje.rs, which debunked it, the trees were not destroyed because of 5G. In fact, the photo was taken during road repairs that were part of the town's public works project.