MODULE 2 - DECRYPTING INFORMATION
SESSION 4 : DECRYPTING DIFFERENT MEDIA
Practical activities
ACTIVITY 2 – EVERY PHOTO TELLS A STORY
Duration : 0.5 hours
Equipment :
Whiteboard, pencil, scrap paper, photos
ACTIVITY INTRODUCTION
Objective: Show students that our perceptions are distorted and influenced by factors such as past experiences, expectations, and culture and that the images we have of others effect our interpretation of their behaviour.
This activity has multiple parts. First, the teacher gives students photos that have been cut in half. Then, students are asked to 'complete' the photos with the information they can deduce from them. Their perceptions and views of others will affect how they reconstruct the photos.
After showing the complete photo to students, they will work with the teacher to identify recurring themes in their stories. After writing these down on the whiteboard, the teacher starts a discussion about stereotypes and preconceived notions as well as the role of myths in our interactions with others.
ACTIVITY INSTRUCTIONS
1. Teachers give each student a photo that has been cut in half.
2. Students 'complete' the story told in the first half of the photo. They have 5 minutes to write the story.
3. Students share what they have written with each other. If the group is large, teachers can create smaller groups of six to eight.
4. The teacher reveals the second half of the photo and asks students to reconsider their impressions.
DOING THIS ACTIVITY ONLINE
The teacher prepares the exercise in advance and chooses the photo. The photo to be cut up should reveal a more complex reality as a whole than the incomplete version.
The teacher emails the photo to students along with a set of instructions and a link to the meeting room in Zoom or any other platform for the videoconference.
In the videoconference, the teacher divides the students into groups.
Each group uses a word processor such as Google Drive or Framapad to 'complete' the story represented in the first half of the photo. They have 5 minutes to write the story.
Class discussion: The teacher can use an 'online Post-It' website such as https://note.ly/ as a virtual whiteboard to write down elements from the various stories. The teacher can then moderate a discussion.
APPENDIX: EXAMPLE OF A PHOTO CUT IN HALF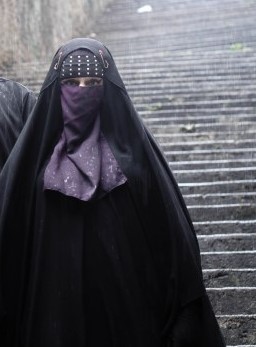 Students 'complete' the photo using the information they can deduce from the image.
Here is the complete picture: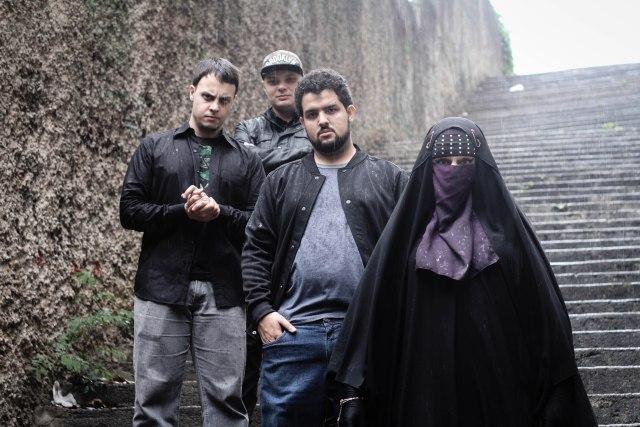 It shows Gisèle Marie Rocha, a Brazilian Muslim woman who plays guitar in a metal band.